PEnA custom designs and delivers complete solar systems for homes, businesses, schools, temples, farm houses, resorts and remote telecommunications etc., and also for some unique applications. Our range includes, both off-grid and grid-tied, of any capacity for any part of the country.

Off-grid Solar Power Systems
When the utility power is unavailable or too expensive to bring in to your home or remote place, solar panels allow you to be your own and only choice. There are several variations of off-grid solar power, depending on your needs and budget. All variations of off-grid solar power depend on solar electric panels and store electricity in a bank of batteries.

Grid-tied AC Solar Electric Systems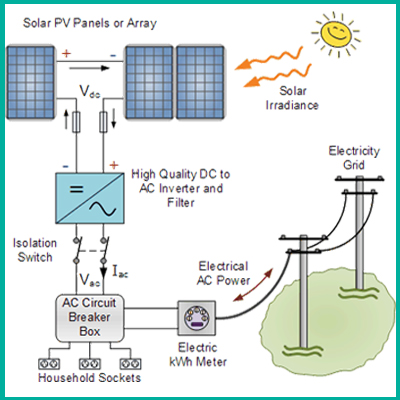 Off-grid solar power also stores DC electricity in batteries. The addition of an inverter allows this system to convert DC electrical current coming from the batteries into AC. AC is the standard form of electricity for anything that "plugs in" to utility power and is the appropriate current for common household appliances. While AC off-grid solar power systems are more expensive because of the cost of the inverter and bank of batteries, the appliances you are able to use are less expensive and there are more kinds of appliances to choose from.

Off-grid AC Solar Power Systems
Grid-tied Solar Electric Systems, also known as on-grid, grid-connected, or grid-intertied photovoltaic systems, generate electricity for your home or business and route the excess power into the electric utility grid. PEnA also designs and assembles complete grid tie solar packages, so that we can offer them to you at rock-bottom prices as we have managed to get them with better supply chain management. We also design and assemble any size system with appropriate number of panels or inverters. Some are designed with newer technology aimed increasing overall efficiencies—micro-inverters or power optimizers. High quality imported and type tested solar panels are strung in series with high efficiency Inverters to make an unbeatable grid-tie solar system for your home or business.

PV array is the main component of the system, which receive solar energy from sunlight and transfer it into DC electrical energy. The inverter is the core part of the system, using the most advanced system to track the PV array's maximum power point, and maximized the operating efficiency. Grid-intertied PV systems use solar panels which convert sunlight into DC, and inverter to convert the DC power into the 220V AC power as the grid. Then supply the power to the load and the grid. Off-Grid PV system consists of PV array, inverter, battery system, combiner box and distribution cabinet etc. All the components are quality checked and cleared with supporting certificates and data sheets.

Most of our customers need help in sizing and designing the systems and our expert team is happy to do it for you. When you have decided to install the system that is professionally sized, request a quote for a list of components and prices for a system that is sized just for you.

PEnA has tied up with all the component manufacturers India and abroad and we assemble complete off grid grid tie solar packages, so that we can offer them to you at rock-bottom prices. We also design and assemble any size system with appropriate panels or inverters.